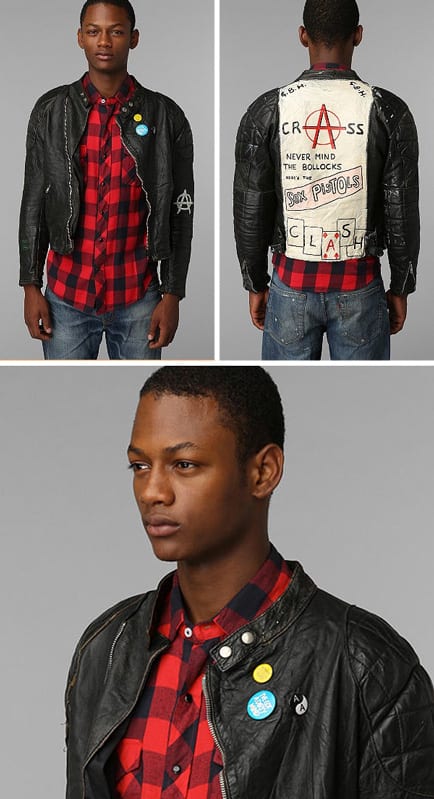 mark strays outside his comfort zone
This is the second entry in a series I tentatively titled What fuckery is this and then got too lazy to change it. Plus the first post was well over a year ago, so I don't even know if I can call this a series. It's more like um… an infrequent dabbling. Anyhoo, the deal is that here is where I riff on some clothing photos I have found online. 
This one was from the Urban Outfitters "Urban Renewal Vintage" line, for which they apparently purchase thrifted clothes and resell them at a 3,749,295% markup. The item's description: "Crazy awesome vintage moto leather jacket from the 1990s. Topped with hand-painted punk logos at like Sex Pistols and Crass."
It's currently for sale for the low low price of $375.00 plus tax.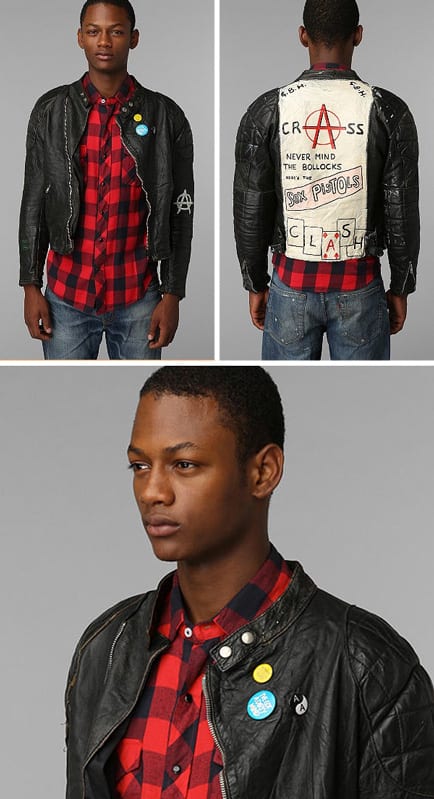 I'm so disillusioned. Why couldn't I land a J. Crew gig instead? I've always wanted to land a gig with J. Crew. Mom always said I had a J. Crew build. I wonder when my mustache is going to come in? I've always wanted a mustache. I think it would go great with a classic cable-knit v-neck, maybe rebooted in a nice on-trend royal blue. Mom always said I look good in the royal colors.
Why does this photographer keep telling me to give him a Sid Vicious sneer? I don't even know what a Sid is. Is that like a disease? Is that disease slang? I should wash my hands after this just to be sure.
These jeans have weird crotch creases in them. I feel so dirty. Can I take this jacket off now? It smells like it spent the last 20 years nailed above the urinal in a bar bathroom. I can't wait to take an hour-long shower and put my tie back on.
I need to text mom, I think I'm going to be late for the spaghetti social. The garlic bread is going to be cold!!! 🙁