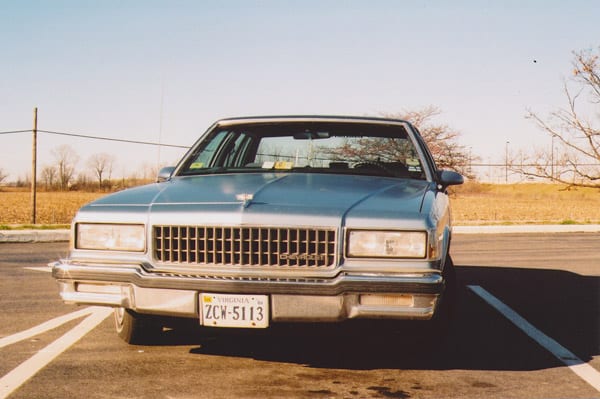 firsts and seconds
My first car was a 1989 Chevrolet Caprice Classic. Picture every American police car and taxi cab from the 1980s and that's bascially it, except mine was baby blue. It was a lurching, roaring metal box on the front of which were slung two long rectangles for headlights. The fender wrapped under the grille and around the sides in a sort of pained grimace. 
It looked like a cantankerous old man, wincing its way along the road.
I can't say it was my first choice of car — hell, I didn't have choices. My father bought it used and drove it to work for about a year with the intention that I'd in turn buy it from him. I did so at 17, and steered it 3,000 miles to college in California with my brand-new Hewlett-Packard desktop computer boxes and some long twin sheets from Bed, Bath & Beyond in the backseat. 
I loved my car, of course, in that proudly defiant way you do when you own something ugly and out-of-date. Young men were continually leaving chickenscratched notes on crumpled scraps of paper under my windshield wipers, asking if I'd sell it. No! I shall do no such thing, sirs. I will not turn a cheap profit by enabling you to do unspeakable things to its rims.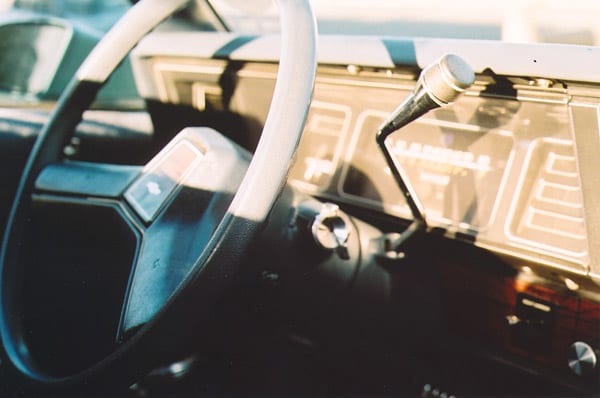 I liked my car just fine the way it was. The dash featured faux wood inlay, and the back license plate flipped down to fill the gas tank. I had a cranberry-scented Yankee Candle air freshener dangling from the rearview mirror, a "Kill Your TV" sticker on the trunk, and a smudged inkjet printout of The Cure taped to the inside the rear window.
There were fuzzy armrests. Of course there were fuzzy armrests.
But by my third year of college the old Caprice was failing. Replacing the transmission hadn't fully soothed its troubled spirit. So my father, in the way some fathers do, took it upon himself to start keeping an eye out for a replacement.
One day he saw a post on an internal listserv at work. A coworker's elderly mother had died, and he was selling her car. It was eight years old, and had 57,000 miles on it.
He was intrigued.
And so my second car became a 1993 Toyota Corolla. Once again, my father bought it and I bought it from him. We made the vehicle exchange while I was visiting my parents on Christmas break in 2001. 
I was proud.
I was going through my box of paperwork recently when I rediscovered all the documents from the first owner that had been included with the sale of the car. There they were, a clutch of papers filled out in ink with a grandmotherly scrawl.
My Corolla originally belonged to a lady named Dorothy who lived in northwest Philadelphia. She traded in her 1982 beige Ford Escort towards the purchase price, which was $15,074.
Dorothy had custom-ordered the car to her liking. She had an alarm put on it, and power locks, and a cassette deck, but left the windows and transmission manual. I was always sort of impressed that an elderly lady would choose to drive stick.
The purchase documents say my car is the color of "Sunfire," which is news to me. Here I've just been putting "red."
Dorothy kept everything. Every single scrap of paper anyone ever handed to her about the Corolla, she diligently stowed away. I have the yellow copy of an printed invoice for a small tube of Sunfire-colored touch-up paint, for which she paid Champion Toyota $4.73 in cash on April 26, 1995. That tube lives, as it always has, in the glovebox next to a striped kitchen dish towel. I'm not sure what Dorothy meant the towel to be used for, but I am grateful she left it there because over the past twelve years it's alternately been used to mop up spills, dust the dashboard, and dry my tears.
My absolute most favorite nugget of information in the file is on the car's original tags. The kicker is that Dorothy was rolling around Philly with a vanity license plate that read DOTSROD.
Hand to heart. What a gal she was.
/////
The last time I riffled through these papers I couldn't help but notice the Corolla's purchase date: April 7, 1993.
"My car is turning 20 on Sunday," I told my mother on the phone last week.
"Ohhhhhhh!" she exclaimed, her voice rising and falling in that same way she uses to praise her dog.
"I'm thinking about baking it a cake," I said, seriously. I mean, it's not like I have any friends, so whatever's clever.
"Are you going to take it out to the car and let the exhaust blow the candles out?" she asked.
Fair enough, mother.
I didn't end up baking anything. What happened was, the beau and I went hiking in the foothills above Golden. We had a nice view of some trees and the Coors brewery. I turned my ankle on a rock running back down the mountain, which is unrelated to the story about my car, but I thought I'd just jam that tidbit in there because days later I am still icing it. Rocks, watch out for them, because they want to kill you dead.
After the hike we went to a novelty sandwich shop in downtown Golden for lunch. If you're wondering why I described it as a "novelty," consider this: the sandwich I ordered had sauerkraut AND peanut butter on it, among other incongruous things. And oh my goodness gracious gravy boat, it was delicious. 
As we were paying for our food, the beau admitted that it was our first time there. "Then you're in luck," the cashier said. She reached over and plucked two saran-wrapped brownies from a bowl, and slipped them in our bag. "First-timers get a little incentive to come back."
/////
And so back at home I found myself, on April 7, 2013, sticking a candle in a double chocolate fudge walnut brownie and lighting the wick.
"Sing Happy Birthday!" I called to the beau. 
"Uh, you start," he replied, and promptly slunk off to another room.
I didn't sing Happy Birthday. I didn't even take the brownie outside, because it was too windy and I also just couldn't be bothered to put on pants. What I did was give a little toast, jabbing the air with my fork in the direction of where my car was parked outside.
"To you and me, for twenty more years," I said, and I meant it.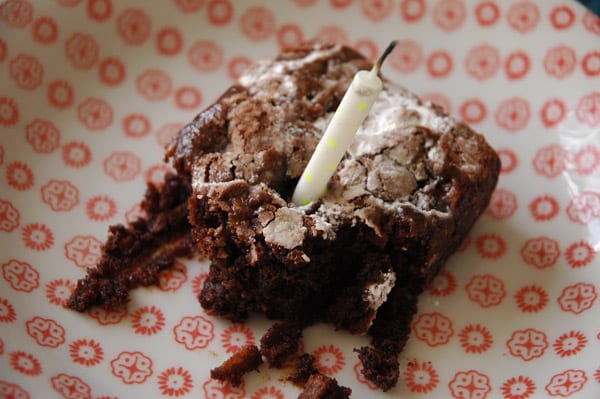 Tell me about your cars.