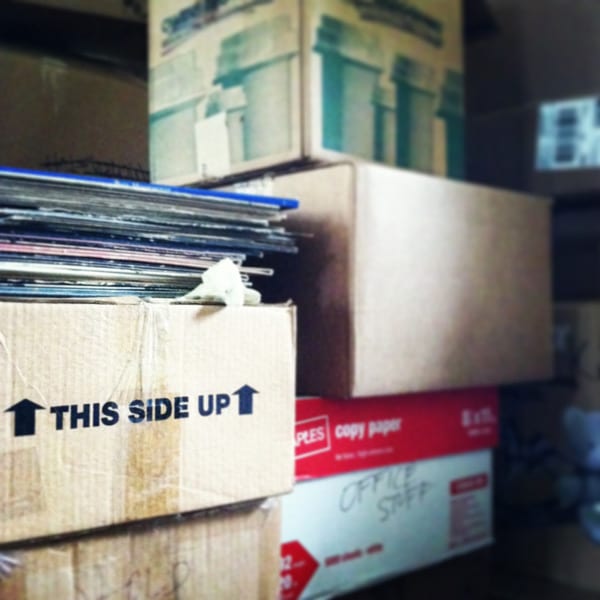 here today
So I guess the final weeks of preparing for out-of-state move are not unlike the final weeks of wedding planning? There are boxes everywhere, and lists of lists, and coordination of schedules and rentals, and feelings, and consumption of alcohol. There are also feelings, if I haven't already mentioned that.
We are dangling off a precipice and it's all of our own making, once again. We agreed to get married, and we agreed to wrap our possessions in cardboard and put them on a truck and drive them 1,113 miles away. How strange is that, by the way? Leveling your gaze at each and every novelty glass, throw pillow, and magazine and asking: "Do I like this enough to transport it to another time zone?"
All too often the answer is no, and all too often the answer is yes.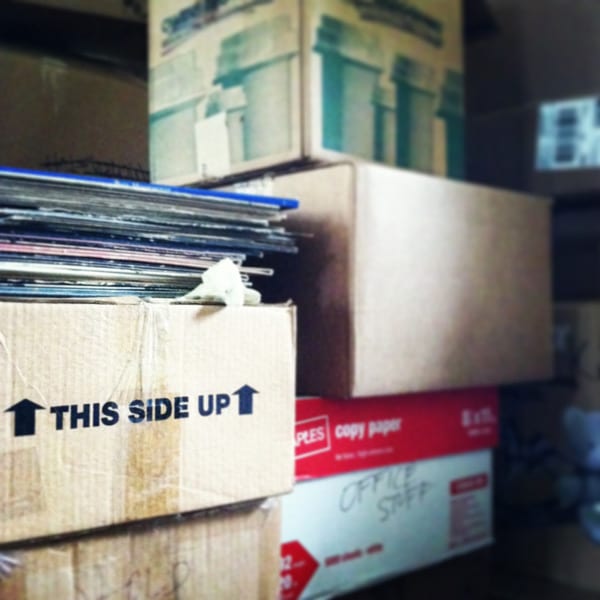 This is a cruel, cruel time. Everyday activities assume an air of finality about them. This weekend we will embark on our farewell trips to the farmers' market and to Trader Joe's (gotta stock up on provisions; I hear they have no food in Colorado). Taking a shortcut through an alley on a morning jog, I think: "This is the last time I will be in this alley." Going to a friend's house, I think: "This is the last time I will be at this house." Even stepping onto the porch and checking the mailbox seems dire. "I will only be able to check this mail for one more week," I solemnly remind myself. As if I will never receive mail again — well, at least not here, in this space.
When we moved when I was young I used to get so caught up in imagining what life was going to be like at the next place. Things were always going to be better; I was going to be better. In my mind the move would serve as a cathartic prism through which only my best qualities would be refracted. And I was invariably disappointed when I arrived at the destination and was still the same person as before.
By the time I got married I'd learned not to anticipate much in advance of any event, lest my fantasy spoil reality. And the reality was that I had a fun wedding — I really enjoyed it. But it was no transformative experience. There was no moment where everything gelled in blissful cohesion. Instead, it was a mad, frantic, stressful scramble, a brief party, and an exhausted collapse. My thoughts after I became a married lady were less along the lines of "wow, so this is how it feels to be married" and more along the lines of "wow, I am glad that is fucking over." I was one of those ones who got all the way through the momentous, meaningful Big Day and… just was me, again. Still.
The storyteller in me always desperately wants to gather all the loose narrative ends of life and tuck them neatly into place. "Big" moments seem to deserve grand cinematic treatment. Maybe it doesn't even have to be grand — I just really, really want it to make some sort of sense.
In my mental movie reel of our final days here, I would be standing outside the bar, half-listening to the strains of laughter emanating from our farewell party inside. I would be staring down at the broken asphalt in the parking lot, tracing cracks with my shoe, thinking about how this is the last time I'll be here in this place with these people. But then the conclusion of the story arc that has been building over these years would click into place, and I'd get it. I'd smile a little and look up as the camera pans out to reveal two friends coming to retrieve me, and at last I'd be ready to go — literally, figuratively. Arm in arm, my friends and I walk back through the door of the bar as the credits rolled on this chapter of life.
Except, you know, it doesn't work like that.
Every time I pause in my day to make room for grand contemplation about this space and this time, what I feel is… a whole lotta nothin'.
It's just like any other damn day, except featuring more boxes.
I am no more enlightened than I was yesterday, or the day before. Or the time I was 17 and consumed an entire bottle of Strawberry Hill Boone's Farm and rode in a car on the lap of a boy with no seatbelt on, and to be honest with you I felt prrrrrretty enlightened that night. 
Soon everything is going to change, even more than it has. This weekend the pictures are coming down off the walls. This will probably make me cry, but it won't necessarily mean anything in that grand universal sense. I am sentimental by nature — I can find meaning in the way light falls on a used tissue, or poignancy in the way the refrigerator hums. But that doesn't necessarily mean I always need to, or that I should. 
Life is messy, and it doesn't make a heap of sense. And that's kind of a beautiful thing, a thing I don't need to meddle with.