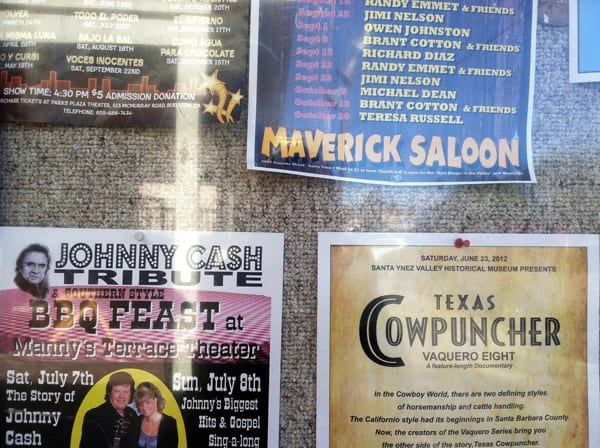 synchronicity
Last Wednesday I was furiously powering through the television channels and came across Little People, Big World. The family on this show lives in the same area of Oregon that the beau grew up in, which was enough of a connection to make me linger for a bit. In this episode, the parents took a long trip and stopped in Santa Barbara to see one of their oldest sons, who's apparently attending university here. When they arrived at his apartment I had to sit up, rewind, and and pause that shit. Turns out their kid lives one block down the street from us. Hi, child-of-reality-series-family neighbor! 
Last Thursday my bone-weary feet made it down the office building steps and out the door, pointing themselves towards home, but my heart had other ideas. The 6:00 p.m. sun was out and warming my skin, so I followed it north. I roamed the streets at will, squinting and blinking at the light. I was just passing the post office when I spotted a folded-up $5 bill on the ground. I looked up and down, but there were no other pedestrians in sight. I carried it home in my back pocket.
Last Friday the beau and I cut out a bit early and headed over the mountains into the valley. We had it in our heads to go to winery we'd never been to before. We followed a meandering road far back from the highway and pulled into the lot at 4:45, just in time for the last tasting. As we walked towards the door we passed two dudes loading cases of wine on a pallet. "I think I know that guy from somewhere," the beau muttered about one of them. Later, right in the middle of a mouthful of syrah, Beau abruptly ejected: "Keith." I quickly scanned the tasting information sheet but there were no mentions of notes of keith anywhere. "I remember now. That guy's name is Keith. We used to hang out a lot in college," he elucidated. "I'm surprised you can even remember you went to college," I said.
Oh, snap.
We were the last ones to leave the winery. As we were heading back to the car, Beau looked wistful. "I wish I'd have gotten a chance to talk to Keith," he said. "I feel bad for not recognizing him right away." The goddesses must have overheard him, because just then they delivered us KEITH, in the corner scrubbing out a bucket. After a hearty round of Hey mans and hand-shaking and back-patting, Keith revealed himself to be the assistant wine maker. He looked us straight in the eye. "Wanna try some of our estate wines?" Five minutes later, we were deep in the chilly bowels of a huge room stacked high with barrels. Keith ran around siphoning wine straight out of the barrels and into our glasses with a giant glass dropper.
The world is funny like this, sometimes.
Afterward, we drove to the tiny cow town of Santa Ynez, talked to a German named Herman for well over an hour, and wandered around in the fading yellow sunlight.
Coincidence delivers us strange, funny little circumstances sometimes. It's silly and maybe a bit naive to assign them meaning.
But hey, you know? Whatever gets me through life.
BONUS Last Saturday: I went to a friend's Solstice barbecue and saw the lady who won Cupcake Wars again, which was a fitting bookend to Wednesday in terms of the "People In My General Vicinity Who Have Been Seen On TV Reality Shows" theme.
What has coincidence delivered to you lately?