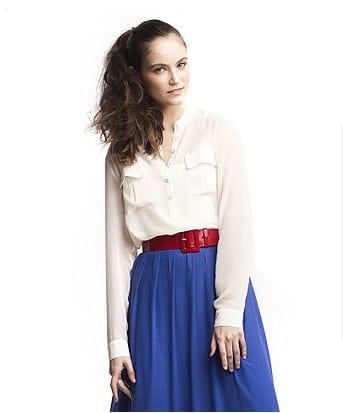 all the news that's fit to print
First of all, I need to tell you that "announcement" was initially the title of this post until I realized that it might trick some people into thinking I was announcing my pregnancy, and I didn't feel like instigating a kerfuffle and then jumping through hoops to disprove it. She says while taking a swig of bourbon.
God, womanhood just keeps getting weirder. 
Anyway! I wanted to tell you things! Magical things! Wondrous things! About my blog! That you probably don't care about! Oh my gracious, look at that. I've already used up my exclamation point allotment for the day.
What I did was I finally got off my ass and optimized this here blog to be read on mobile devices. You know, just in case you're away from your computer and need to look up something I wrote so that you can quote it to your friend in exasperation and then both of you can collapse in gales of laughter about how stupid I am. 
It's got a dropdown menu and everything.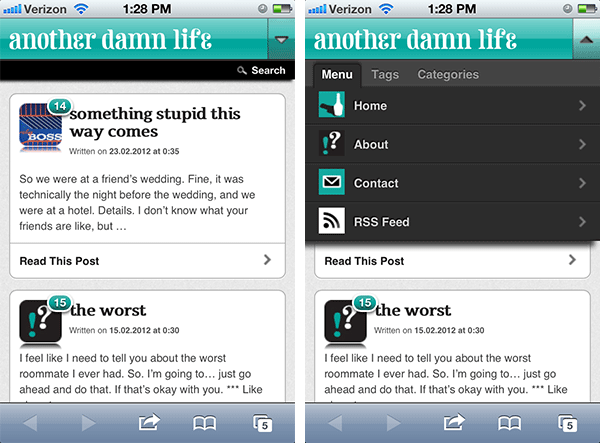 I HOPE YOU LIKEY.
Next in my world of news, I… kind of found out that I might be winning an award for a poster I designed last year. I will find out for sure March 15, which is when the awards gala is happening. Which is awesome and nerve-wracking all at once. What if I don't win after all? What if I win but it's like, the very last-place prize? WHAT IF MACHETE-WIELDING COMMUNISTS SUDDENLY RAPPEL FROM THE CEILING AND TAKE US ALL HOSTAGE?????
Shit, now I'm running low on my question mark supply, too.
It's just the regional competition of the American Advertising Federation's ADDY Awards. So it's not, you know, super impressive or anything. But I want to be prepared. And by "prepared" I mean "find something to wear."
So I went online in search of cocktail-style attire that would cover all my bits yet remain flattering, while also being unique and stylish. I started on Macys.com for no especial reason except they sent me a sale email and I opened it and clicked through. 
Somewhere, an email marketer is wetting his pants.
What I found on Macys.com was a number of fascinating items of clothing. Permit me to share my findings with commentary.
//////////////////////////////////////////////////////////////////////////////////////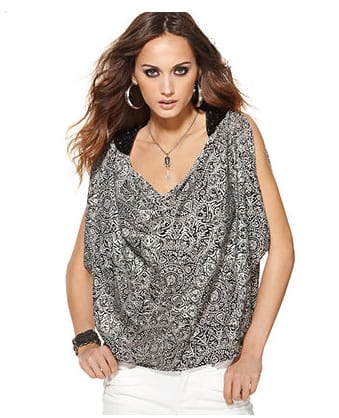 Keep forgetting your reusable bags at home? Start wearing them! Made of reconstituted Ralph Lauren pillowcases for that fashion-forward flair and extra bit of eco-friendly goodness.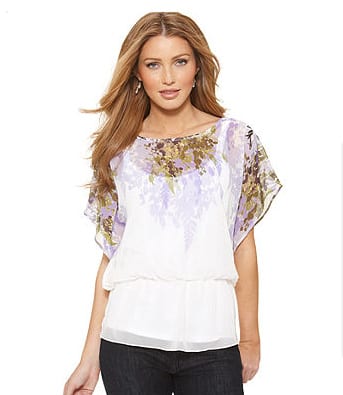 The perfect top for when you want to achieve that "the baby horfed strained peas on my blouse in a pleasant abstract floral pattern" look.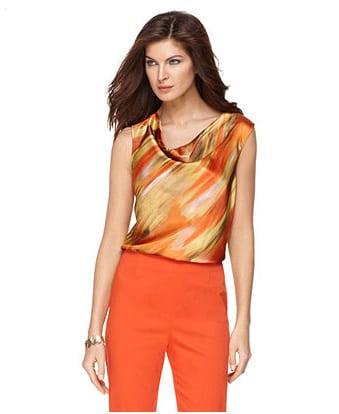 God, look how pissed1 this model is. "The '70s? Again? Really?"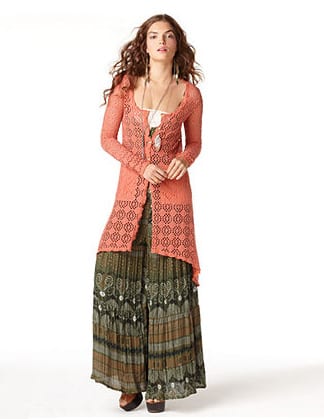 "SHIT YEAH ABOUT TO RECLAIM MY TITLE AS THE HOTTEST CHICK AT THE RENAISSANCE FESTIVAL. Five years running, wenches."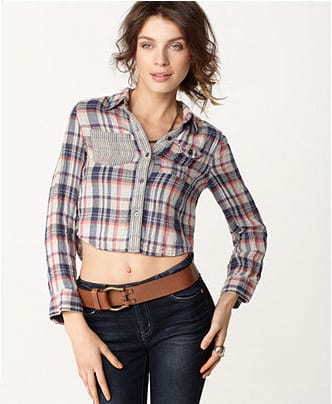 FINALLY. A shirt that keep my arms warm and my stomach cool while also addressing my burning need to look like a hippie lumberjack.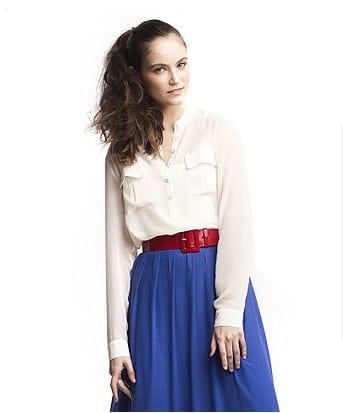 Two buttonholes and a braid away from being a Sister in a fundamentalist clan on the Fourth of July. 
//////////////////////////////////////////////////////////////////////////////////////
 So, yeah. I haven't actually found things to wear yet, just things to make fun of. If you have any fashion ideas or tips, please let me know. Because now I'm really starting to get nervous.
Yo, '70s girl. Pass me that bourbon.
1 I mean "pissed" in the American sense of being angry, not in the UK sense of being drunk. Although it's likely this model had to turn to the bottle in order to get through this shoot.