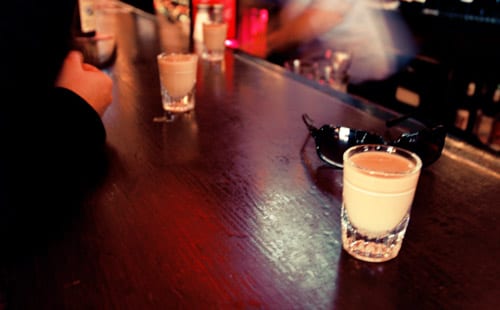 taking shots
I'd just put on LMFAO's "Shots" and the beau was dancing in the most ludicrous manner possible: lots of hip-wiggling and butt-thrusting. He stuck his tongue out in concentration and pumped his arms vigorously in the air as I laughed with appreciation.
He's not the kind who listens to lyrics. That's my role. I'm the music-obsessor in this relationship. But that's fine. He's the food-obsessor; it all evens out. But this time, this one time, one of the lyrics caught his attention:
The ladies love us
When we pour shots
They need an excuse
To suck our cocks
The beau froze mid-waggle and frowned, then straightened up. His arms hung limp at his sides; all the party had drained from his body. "That's… not good," he remarked.
Indeed. In-fucking-deed, sir.
I love all kinds of music. I have corny country and schmaltzy 80s and ditzy pop. I have hardcore rap and indie rock and electronic dance. I have music I'd never ever acknowledge owning were it not currently fashionable to admit to our guilty pleasures. But one thing I can't get past is how to deal with uncomfortable lyrics.
I like music that makes me move. A well-constructed beat drives me mad in the most deliciously euphoric of ways. I often put on Girl Talk's sample mashups to help me plow through workouts and work projects alike, and I'll be grooving along happily until suddenly — mixed right into the lilting strings of The Verve's "Bittersweet Symphony" — comes a cuttingly creepy whisper:
Wait'll you see my dick
Hey bitch
Wait'll you see my dick
Gonna beat the pussy up beat the pussy up
Uh.
Suddenly I don't quite feel so happy anymore.
It's somehow not enough to make me stop listening, though. It's easy to refuse to listen to a song I disliked in the first place, but if I've already halfway fallen in love with a tune things get difficult — especially if there are other, less-offensive songs I already enjoy from the same artist. Rarely do I ever get to the point where I break down and drag an .mp3 into the trash in anger. This makes me feel like a bad feminist, certainly. But part of me feels that questionable lyrics, along with questionably-behaved artists, are so pervasive in music that you can't possibly boycott everything you disagree with. Can you?
I mean, I may feel kinda squicky when Jackie casually informs Diane that he wants to take her behind a shady tree to "dribble off" her Bobbie Brooks jeans and that she should then let him do what he pleases, but that doesn't stop me from turning up the volume and beating on the steering wheel every time John Cougar Mellencamp's "Jack and Diane" comes on the radio.
I'm not exactly proud of it, but there it is.
Do you ever find yourself willfully ignoring the squirm-inducing parts of songs in favor of rocking out? How do you cope with problematic lyrical content?