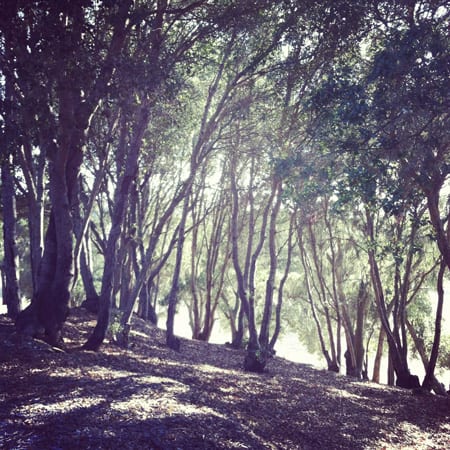 everyone
Over the long weekend, we cabined.
Everyone ought to cabin every now and again. To cabin is to gaze up at a charcoal black canvas of sky peppered with tiny pinpricks of light, to be utterly surrounded by mossy trees, to be awakened in the middle of the night by a large unknown animal skittering across the front porch and then to lie there for an hour hoping the animal wasn't really a demented serial killer and this wasn't going to end up like one of those folk horror tales where the guy with the hook for a hand slowly scratches through the top of the car and then the UNWITTING MORONS IN THE CAR DIE.
Yeah. Just like that, except with a cabin in place of a car, and maybe the murderer has a machete for a leg, and the unwitting morons are us.
See? See why everyone needs to cabin?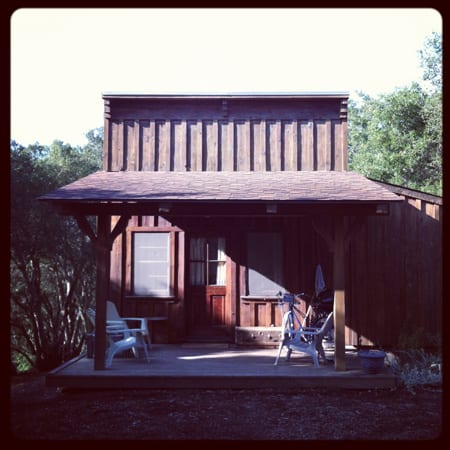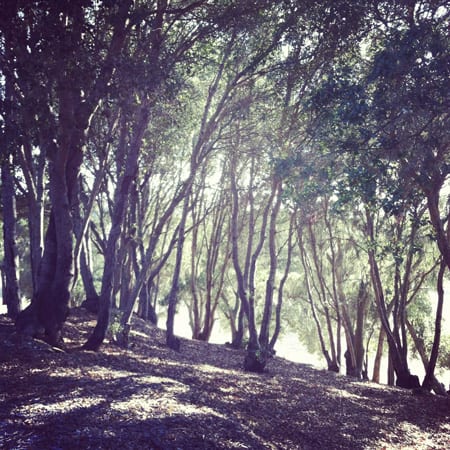 Cabins are made better, of course, by the presence of an adjacent old western saloon. Everyone should definitely take full advantage of every single old western saloon they might happen across in life.
We had big plans for this saloon, we did. We wanted to have our friends come up and drain bottles of bourbon and play raucous card games and probably shout a lot, and we also wanted to dress up in ridiculous attire and take photos of ourselves posing inside the saloon. But then the friends flaked out on us and we were too lazy to actually acquire dress-up items before the trip and also I'm not even sure where my tripod is or how to work the timer thingy on my camera. So all we ended up doing was sitting quietly inside its walls, staring around at the corks jammed into the holes in its weathered boards.
Not quite the tribute to its history I imagined. Learn my lessons, friends. Learn them hard. Or soft. Whichever better suits you. I'm fairly flexible.
Everyone needs to go for runs down crumbling rural lanes and take Instagrammed mobile phone pictures of the countryside along the way. I can say that; I can say I like Instagram, because I am not a real photographer. Give me moar filters! Moar! My lackluster mobile phone pictures need all the help they can get!
I should also say I like running, because the Institute of Running is sponsoring this post. They are paying me in rolls of tinfoil and candied ginger. And Trader Joe's cinnamon brooms. I get a consistent number of blog hits from searches on those cinnamon brooms, actually. That and searches on the music group TLC, and on André 3000 sans trousers.
Which reminds me, I totally need to write a post about that one time it was me, Chilli, Left Eye, and T-Boz just kickin' it at the crib with our hats to the back and our pants down real low, you know, and our housekeeper, André 3000, ran up in his underwear with a Trader Joe's cinnamon broom in his hands and bent over and started trying to sweep the floor with it and we all just laughed and laughed and laughed.
BACK TO THE DUMB PICTURES I TOOK WHILE RUNNING.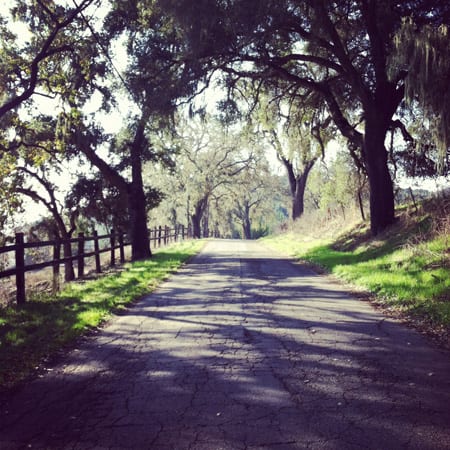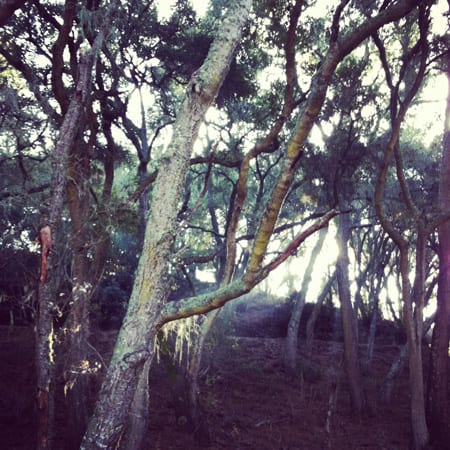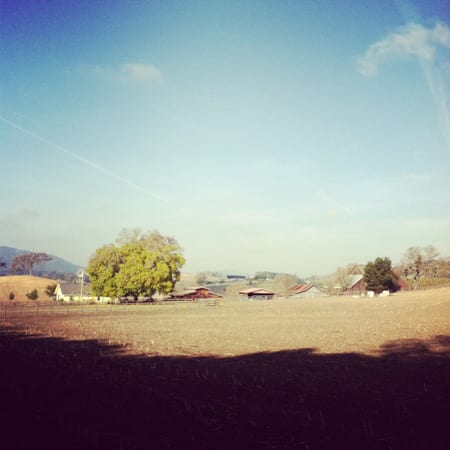 Everyone should get a bicycle with a basket and a cup holder for their birthday. Toss a loaf of french bread in that basket and a Pabst Blue Ribbon tallboy in the cup holder, and you are that much closer to living the hipster manic pixie dream girl fantasy.
Everyone should then take that bicycle and ride it down 2-lane roads carved through farms and ranches and vineyards, sweating and laughing and terror-stricken from the passing cars.
Then they should get the hell off of those roads, because that shit is dangerous.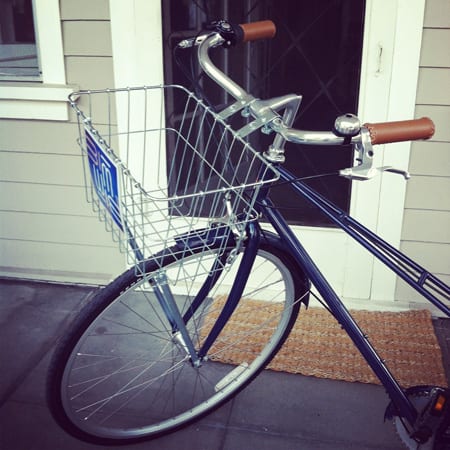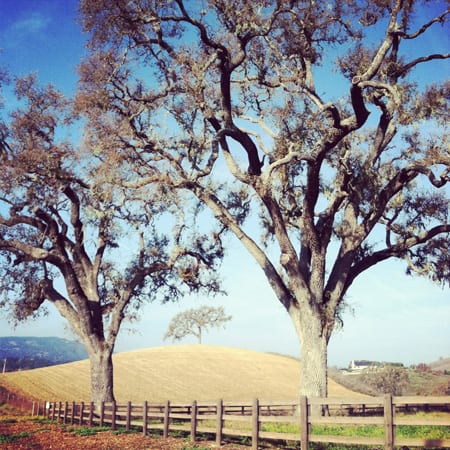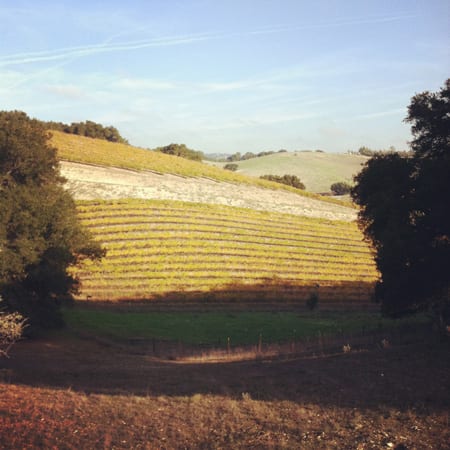 Everyone should go wine-tasting when they can. Unless you hate wine, of course. In which case you are a very, very lucky person, because it turns out there are many other things in the world to taste instead. You can run around tasting practically any object or surface you like!
Careful for splinters!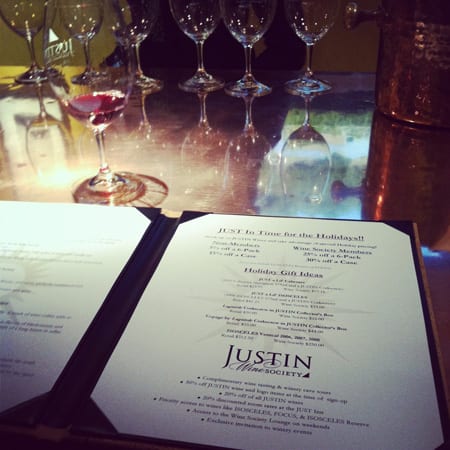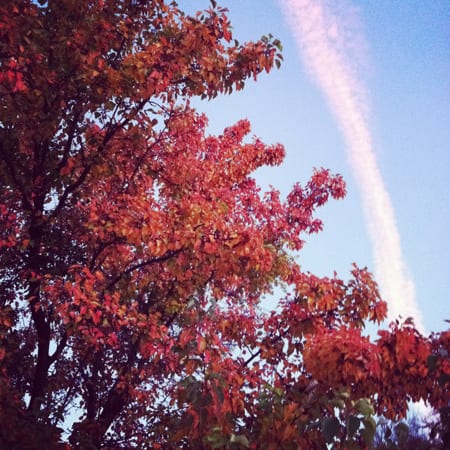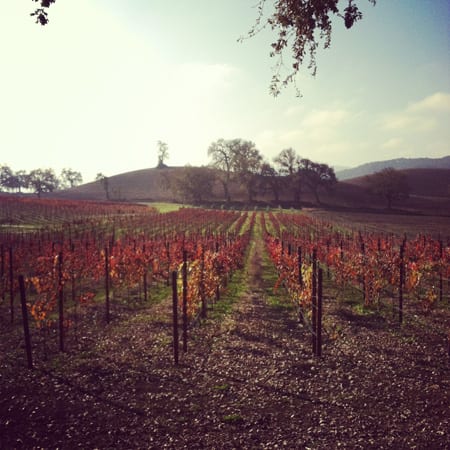 Everyone should just once have a Thanksgiving dinner for two in the middle of nowhere. The kind of dinner where you skip all the regular dishes and go straight for the post-feast sandwiches; open-faced ones that are feasts in themselves. Brown yourselves up some fresh sourdough on a dubious electric griddle you found stuffed in the back of your cabin's kitchen cabinet, and layer on the good stuff: whipped cream cheese (weird, I know!), salami, creamy brie, roast deli turkey, cranberry sauce, gravy.
Unless you are vegan or gluten-free or just plain don't like any of those food items, in which case I am sorry. Please carry on like I didn't write this part at all.
What Thanksgiving dinner? What? We sat on the floor and simply ate our salty tears.
Everyone should find boxes of organic artichokes, leeks, and squash with a sign that says "FREE." Because, seriously. When does that ever happen?
Those artichokes were delicious, by the way.
Lastly. One night, everyone should wander into town. They should have a drink in a dim bar whose dusty decor hasn't changed since the American bicentennial celebration, a bar whose jukebox blares more country music than classic rock and roll.
They should go to an artisanal restaurant and share delicious plates and talk about both the future and the past.
And they should definitely go for a stroll around the town square, taking time to marvel at the epic battle being played out between the autumn leaves and the winter holiday decorations.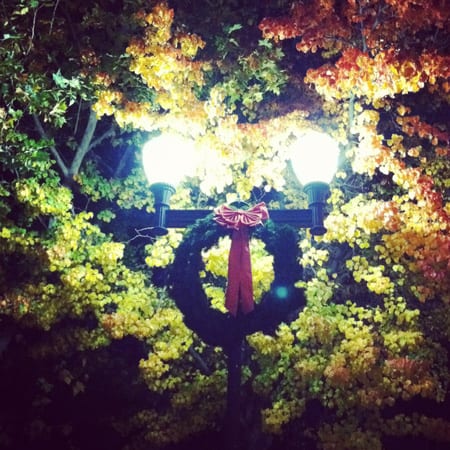 Well, that's it. That's all everyone has to do. Go on then, better get to it.
And remember, watch for murderers!