go it alone: part one
During the last week of October, I had an opportunity to roam southern Arizona by myself for three days. This post is about the first day.
***
The rental car lady walks briskly over to the last row of the lot, me trailing behind with my rolling suitcase. "You have a choice between that white Chevy HHR or this red Kia Soul," she says, gesturing to the left and right of us.
"Uh," I stutter. "Um."
"A lot of people like the Kia because of the hamster commercials," she leads.
The Kia has a bright yellow New Mexico license plate on which the last three letters spell "RAD." I decide this is a good sign. I scrawl my initials approximately forty-eight times across the contract in the clipboard, and I'm ready to go.
Except I'm not sure where. I have it in mind to make it to Bisbee, Arizona, tonight, but I don't want to just hop back on the impersonal interstate and make a beeline there. I want to see things. I want to experience the desert.
I swipe my thumb around the screen of my phone, looking at a Google map of the Phoenix area. It looks like 60 makes a straight shot east before crawling up into the mountains. It also looks like the 60 is known as the "Superstition Freeway."
I decide this is a good sign.
***
I'm still fumbling with the radio as I drive out of the parking structure, trying to find a unused frequency to dial my MP3 player into. On the way I hit upon a station playing "Meet Me Halfway" by the Black Eyed Peas. I crinkle my nose and hover my finger over the skip button before thinking better of it and turning the volume up instead. I don't know the words so I car dance in a dramatic fashion, flinging my arm first one way and then the other, bouncing up and down in the seat. I have the air conditioner blasting on max and the windows down. I stick my hand out to feel the hot, dry air rushing through my fingertips.
I pass endless exits for strip malls and housing developments before the buildings start to spread apart. The road narrows from six lanes to three, then two. A huge rock outcropping rises up from the horizon and rushes towards me, and at the last second the road deftly swings around it.
Everything is the color of sand and I am very happy.
***
I pull into gravel on the side of the road in order to take some pictures of the Arizona landscape. I'm wearing a pink sundress and picking my way over broken glass and discarded underwear, trying to find the best angle. A man passing by on a motorcycle honks twice in appreciation. "Fuck you," I growl, and suddenly feel very small under a swallowing expanse of sharp blue sky.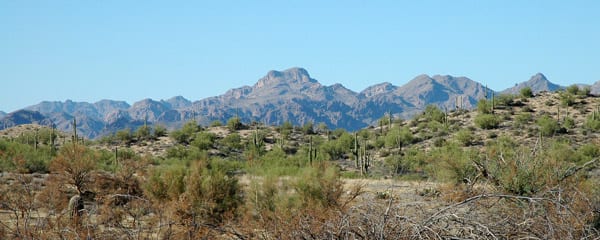 Just a half mile down the road, I follow signs for a trail head. I bump along a rocky track until I find what looks like an disused cattle corral. A tiny slice of the old west. I leave the car running and the door open as I wander the empty lot with my camera in hand. A cloud of dust suddenly rises over the scrub trees to my right and I whirl to watch another vehicle slowly roll by. The passengers and I lock eyes until they're out of view.
It's strangely reassuring to be back inside the Kia, surrounded by thousands of pounds of fiberglass and the bass line on Broken Bells' "The High Road" reverberating through the speakers.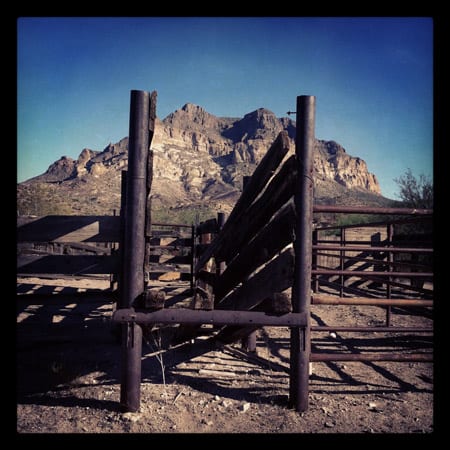 ***
I get sidetracked in a decaying town deceptively named Superior; lured by signs for the "World's Smallest Museum," a monument made of tires, and the hollow eyes of abandoned houses on a steep hill. An angry dog in an overgrown yard puts me off of getting close enough to the houses for pictures, so I take a few moments to marvel at a series of glittery mustangs painted on a retaining wall instead.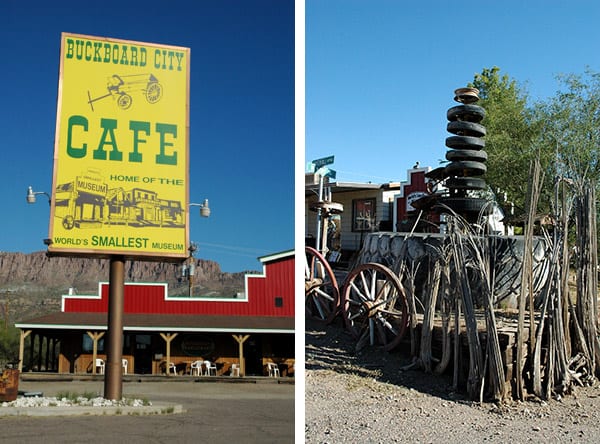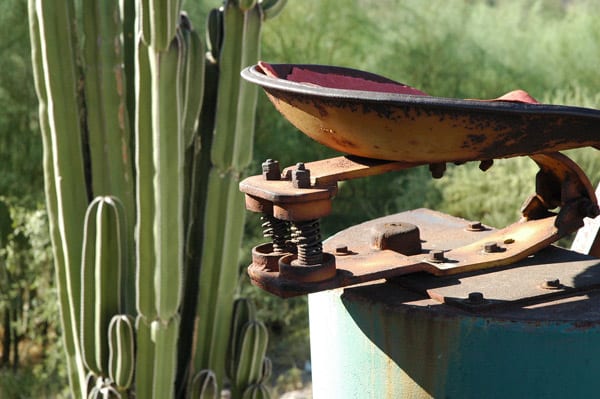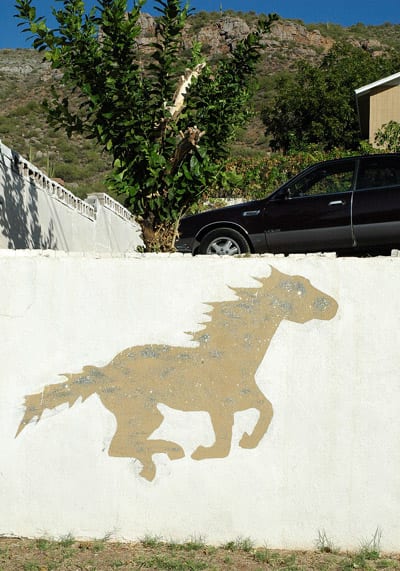 ***
Around 4:00 p.m. I pull into a McDonald's outside of Globe to use the restroom. As I'm hunched over the rusted sink scrubbing my hands with neon pink soap, I glance into the cloudy mirror. Under the fluorescent light my skin is sallow, my hair is limp and stringy, and I have somehow acquired two purple stains on the front of my sundress. I uselessly attempt to finger-comb my hair into submission for a few seconds before giving up. I'm just going to keep driving with the windows rolled down anyway.
It's getting late, and I'm getting a little worried. According to my phone, Bisbee is still roughly four and a half hours away from Globe. I don't want to be confined to the car for another four and a half hours. I scroll around the map in desperation, looking for an alternative route. I see I can take the 77 south and west and be in Tucson in just two hours.
Looks like a change of plans has been made.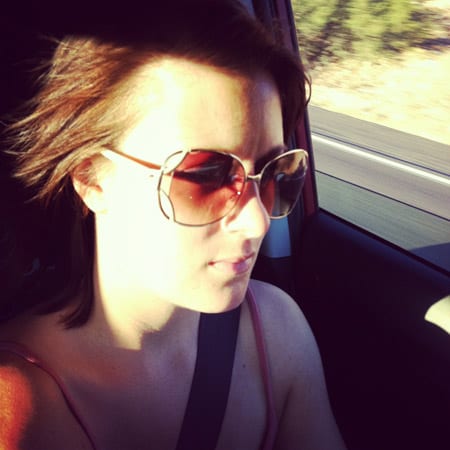 ***
It's dark when I park the car outside of the Congress Hotel in downtown Tucson, pointedly ignoring the meter. Inside, I'm greeted by an extremely earnest clerk. He informs me that he can give me a double bed for $89 a night. I graciously accept.
"Your room overlooks O'Toole street," he says, somberly. Unfortunately, it also overlooks a bar and the Union Pacific railroad tracks. I recollect this statement hours later, when people are drunkenly shouting "WOOOOO!" outside my window and train horns are blowing every half-hour.
The room is sparse. Spare. In place of a TV hangs a monochrome painting of train tracks disappearing into a black tunnel as industrial buildings loom overhead. A vintage radio rests under a lamp, and a radiator lurks in the corner.
The bathroom is vintage, too, right down to the plumbing. Within 10 minutes of arriving in my room I manage to clog the toilet with just two pieces of tissue. I swallow my pride and head downstairs to ask brood boy at the front desk for a plunger.
***
I dine by myself in the café downstairs. I bring my phone and a book, just in case I need a little company. Three drinks, two duck confit tacos, and a beef medallion salad are ordered. After the waiter takes my credit card he returns to the table, brimming with recognition. "My daughter's middle name is Lyn," he says, smiling. "Spelled just like yours."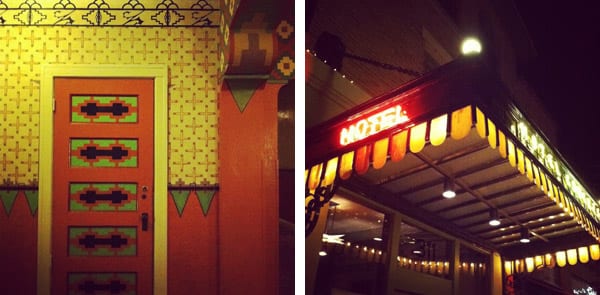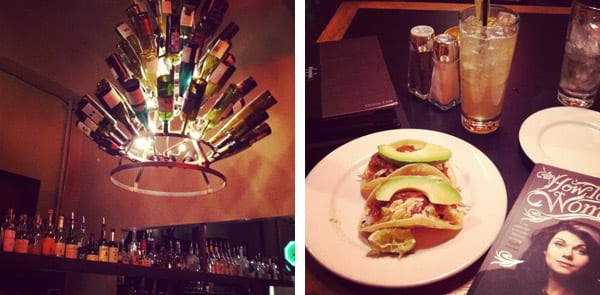 ***
I take a walk. There are a handful people leaning against walls outside of bars and smoking cigarettes, but downtown Tucson is mostly empty save for one other pedestrian. For the first few blocks he's a distant silhouette under the streetlights. As I catch up to him at an intersection I suddenly realize that he is, in fact, a homeless man. He turns and asks if I can spare a couple of dollars. He's down on his luck, he says. He's been trying to get right in life but he just can't. I'm nodding and digging in my handbag for my wallet when he abruptly changes the topic. "My name is Brian Wilson," he mumbles. "I used to surf in Venice, in California. I was a surfer." His pale blue eyes are rimmed red with tears and I can't see his mouth through his salt and pepper beard.
I hand him a few dollar bills and say, "Have a good evening."
"God bless," he calls after me.
Two blocks up and one block over, I decide it is time to turn back. I head down an equally empty side street to the hotel and climb the stairs to bed.