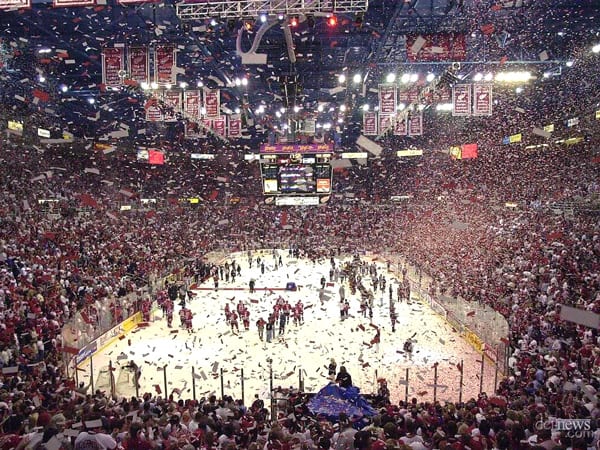 just a game
Hey, you. You there. I know you sense that I've written here about sports, and I know that you don't really care. I can already see your eyes glazing over, your jaw going slack. I can already see a thread of drool slowly unspooling from the corner of your mouth. You might want to wipe that thing, actually, before it reaches your… uh… too late. By the way, is that a new shirt? Damn. That's a really nice color on you.
If you've read my blog for more than three minutes, you'll know I love hockey. I also love American football (especially college), but professional hockey is like my firstborn. Football is a big ol' box of buttered popcorn, but hockey is popcorn coated in caramel, and maybe some peanuts sprinkled on top. Unless you hate popcorn/caramel/nuts. So football is your favorite paperback book, and hockey is all your favorite books loaded on an e-reader. Unless you've Pledged to Read the Printed Word. Shit. So football is like walking into your favorite establishment and everyone turning to happily greet you by name, while hockey is like walking into your favorite establishment and everyone turning to happily greet you by name and then suddenly a bunch of $100 bills start fluttering down from the ceiling while DINOSAURS pick a fight behind the bar with BEARS and the BEARS have LASERS and are wearing LEDERHOSEN and ALSO Jeff Bridges is just standing there up against a wall, grinnin' and strummin' a guitar.
Well, this is getting kind of weird.
Believe it or not, there was a time I wasn't quite so enamored of sports. I'll call that, oh, pretty much my entire youth. Which is a relative term, youth, because to my parents I'm merely a dewy-eyed baby and to my youngest cousin I'm an ancient, hobbling, papery-skinned matron with a vile penchant for cursing. So I'll simply say I was 23. I was 23 when I started watching hockey in earnest, huddled in my parents' basement after college with only a bottle of raspberry-flavored Smirnoff vodka (oh yes I did) and the chirping lilt of the announcers' offscreen voices for company, and I've never looked back.
This summer, the NHL Network has been airing classic Stanley Cup hockey games. I began watching this series the day they showed the 1983 game, and just today they aired the 2002 game. This was game 5 between the Detroit Red Wings and the Carolina Hurricanes, in which Detroit won their third Stanley Cup in six seasons. Prior to this particular hot streak, the Wings had gone over 40 years without taking home the Cup.
It was the first classic game I've watched that actually sparked my memory. I remember this game. I was going to university in Michigan at the time. I was sitting in a corner of the apartment at my giant Hewlett-Packard desktop computer, instant-messaging on ICQ with an old friend back in California. My then-boyfriend was sitting on our old brown couch, whooping and yelping at the game on TV. After the final buzzer sounded, I went over and sat on that couch and watched the celebration with him. The entire arena — the Wings won at home in Detroit — was going nuts. Ticker tape fell, trophies were awarded, heartfelt speeches were given, victory laps around the rink were skated.
And my then-boyfriend, who had grown up in Michigan rooting for the so-called "Dead Wings" of the 1980s, was practically writhing with glee. Dude was nearly foaming at the mouth. He was so ecstatic it was infectious. And I remember at the time being amused. I remember thinking, "Well, isn't this quaint." But I also remember being taken by the spectacle, and the electric joy of the crowd, and the gratitude and elation of the team, and even the shock and defeat on the faces of the Carolina players. I remember the enormity of that night.
It's just a game. It's just a game.
And a relationship is just a relationship, right? That person I called my boyfriend on June 13, 2002, now lives in a tiny town in Michigan in the same house his grandmother used to own. I remember that house, filled with plastic-covered furniture and gold lamps, and the Easter dinners I once had there. Today — according to his most recent Facebook status — he is weighing names for his second child with his pregnant wife.
Meanwhile, today I stood barefoot in my living room in California and fleshed out logo concepts for a client while an old hockey game played in the background. Later, I packed up my laptop and met a friend at a coffee shop for work and chat time. Tonight, I texted my husband — who is traveling in Texas this week for his job — some choice Rick Perry jokes and then, fortified by red wine, I typed up this post.
Sports are a tableau of life writ large. Each game is an intense drama with a neatly-resolved ending. No matter what happens during the fight, there's always a winner, and there's always a loser.
I like to think I won. I'll bet my ex believes the same.
You could say one's personality, interests, tastes, fashion sense, etc., are all just bits stolen from others. You take pieces of the people you've known and you make them your own. I got my interest in hockey from my ex, but now it's mine. It's mine, all mine, and I'm never giving it back.
He can keep the rest, though. All of it.
And today, right now, in this brief minute, I'm skating a little victory lap.