colorado dreamin'
So, Colorado! I have so very much to say about it. But first, some general observations. In part because it gives me an excuse to make a list.
Okay, mostly because it gives me an excuse to make a list.
God, I love lists.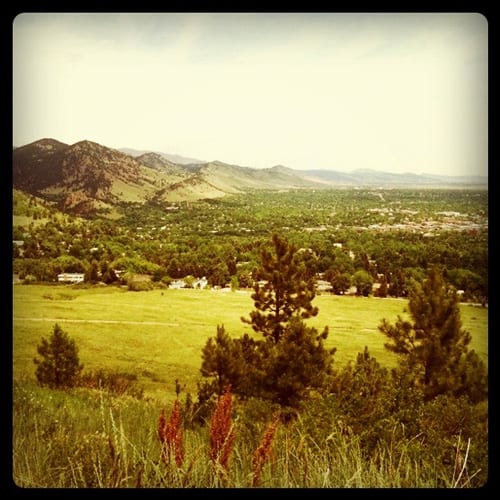 PEI mussels are to Colorado as tator tots are to Portland, Oregon. That is, ubiquitous. It became a game of sorts between the beau and I: who could find the PEI mussels on the menu first. For the record, I always won, but I think that's because I never really made it clear to the beau that there was a game going on and he was playing it against me.
Everyone in Colorado owns a bicycle. Everyone. I'm actually pretty sure they stop you at the border and in lieu of checking your I.D., they ask to see your pedal-powered two-wheeler. If you don't have one, they bar you entry into their fine state.
You must have your I.D. on you at all other times, though. I learned that lesson the hard way when I forgot my driver's license in my backpack at the hotel and the restaurant we were having dinner at refused to serve me alcohol. I was forced to surreptitiously sip the beau's drinks all night! Horrors!
Colorado has weather! Every day we were there, it was hot and sunny and clear in the morning, and then by early or midafternoon the clouds would build and a great thunderstorm would be unleashed. It would rain torrentially for a while and then it would stop and the sun would come back out. I loved this. Except for those times we were trapped indoors. noses pressed against the glass, waiting for the pouring rain to end so we could go back outside and explore again. One particular afternoon we were stuck inside a bar for hours. Thank you. We're just now starting to heal from our ordeal.
A lot of people in Colorado are white. Once we took a look around the restaurant we were having lunch in (we spent most of the trip inside restaurants and bars, clearly) and realized that everyone — the patrons, the wait staff, the kitchen staff — were white. Even we were white. It was kind of unsettling, actually.
Everyone wears shorts. Shorts. Shorts. Women, in particular, wear jean shorts. Constantly. Like it's some kind of official state uniform. One day while touring downtown Denver I wore a shirtdress and leggings and people kept doing double takes at me like I was walking around in ski pants and a velvet sparkle cape. Shorts might be some kind of law there, and I got the impression that I had barely escaped arrest. Or maybe everybody in Colorado belongs to some kind of secret religious shorts cult. I don't know. I need to find out for sure before I move there, though, because it will be a blustery day in hell when I put on any kind of shorts. Coloradans, consider yourselves forewarned.
Their mountains are superlative, though. I can almost forgive them their shorts.
Outdoor seating! Everywhere! Patios, balconies, decks…. I've never eaten outside so much in my life. This is a very good thing.
Coloradans get big ups from me for knowing and using the friendly "thank you" traffic wave. Californians seem only to know the other, less tasteful hand signal.
Colorado holds the distinction of being one of only two American states that you could accurately sketch in just seconds simply by selecting the rectangle tool in the drawing program of your choice. Or by using paper, pencil, and a ruler. But that sounds like a lot of unnecessary work to me.
Okay. I'll be back shortly with more words about our trip, plus pictures. Try not to pee your pants in anticipation.