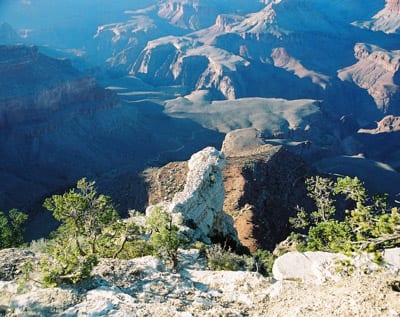 losing the plot
Lately I've been forcing myself outside at night, no matter how much more work I have left to do. I grab my iPod and jam my feet into my shoes and I'm out the door. Reluctantly, yes, but the point is: I'm out.
So the other evening I was out there wandering around, gazing intently at the trees or the sidewalk in order to avoid making eye contact with people.1 I was thinking about absolutely nothing. It's during these moments of compulsory inactivity, of course, that your brain silently goes to work unraveling the threads of your life's fabric. And so suddenly I was hit with a realization: I'm not working towards anything right now.
Right now, I have no goals or dreams.
Really? None?
Yeah, really.
This is an unusual thing to admit, because as far back as I can remember, I've always had a finish line in my sights. As a child one of my first goals was to make it to 10 years old. I'd lie awake and dream about what I could do with my life if only I was 10 years old. I could get my military ID card! I could go swimming at the base pool by myself! I would be older, more sophisticated. If I could just make those double digits, I thought, I will have arrived.
Soon enough, this dream faded into making it out of middle school alive, and then making it out of high school alive. And then it was getting into college, and then it was graduating college. And then it was getting a job, any job, OH GOD I NEED A JOB. And then it was moving cross-country, and finding a new job. Then it was getting through another round of school in order to remap my career path. Then it was kickstarting that new career. Then it was getting married.
Now? I think I'm… well, done.
My education is finished, at least for the interim. I've managed to land the type of job I wanted in the career I wanted, and I'll likely stick with it for a long while. We've got that whole wedding thing squared away, now. We've got a place to live — the same rental we've shared since 2007. We have furniture to sit on. Some of it is ugly, but what can you do? We have organic produce to eat. I have some knick-knacks, but not very many, because I hate clutter. We each own cars that run. We have way too much glassware, and none of it matches. We collect more bottles of wine than we drink, but we're always restocking our vodka and bourbon. Our houseplants are mostly alive. I have exactly three throw pillows. I have switched from soy to almond milk. I have a gym membership and I use it regularly.
What is left to do?
We've settled into this solid lower-middle class existence, and now when I look to the horizon it's empty. Which sounds bad, because emptiness is negative, right? Except that for me, in these last few months, emptiness was a blessing. Sure, I've had side projects, and ongoing chores, and other forgettable challenges to fill my days. But there haven't been any overarching large-scale efforts toward achieving things. It would seem there are no more grand finish lines to cross.
I hear smart newlyweds talking about how exciting it is to start in on their shared life dreams. The only dreams the beau and I have anymore involve what to eat next. Which is a noble cause, yes. But it also means I don't quite see any farther than the end of each day anymore.
Is that a bad thing?
As much as I believe that social or cultural narratives should never dictate your life choices, I'm a flawed human. And lately I can't help but wonder if I'm doin' life rong. Are we missing out on something? Are we missing a point somewhere? Are we a bad husband and wife team, not striving daily to be all that we can be, together?
Check-ins like this are good to have every now and again, because it gives you an opportunity to correct yourself before you stray too far off the path. But dude, let me tell you something. I can't even find the path. I am waist-deep in some tall grasses, poking at things with sticks, staring up at the blue sky. I haven't seen the damn path in so long that I can't even remember what it looked like, let alone which direction it's in.
Maybe I'll just have to start a new one, then.
On Saturday we're leaving on a jet plane for Colorado. It's a vacation with an ulterior motive: to look for a new place to live. This sounds big, yet oh so tiny at the same time. It's so tiny, in fact, that I haven't even been thinking of it as a real goal or dream. There are thousands of little steps that will exist between this first one and an actual physical move to another state. Yet while this move is something that probably won't happen for a very long time, and something that introduces a whole new set of anxieties and concerns, it's still… something. Something tangible to work towards. Something to dream big about. Even if that does sound a little bit like an aspirational greeting card.
Fine. A lot like an aspirational greeting card. I'll hold your hair back while you hork in the loo over the perky sentimentality of it all.
I've learned, I think, that I'm okay with wandering off the path. I've quite enjoyed the quiet, staid, cheese-eating existence the beau and I have cobbled together in the past few months. But planning our Colorado trip has reawakened my sense of adventure, and of possibility. Of dreams and goals and all those lovely things that people who have their shit together seem to have. Who knows where we'll end up? Who knows what'll happen to us next? Who knows — wait for it — where that path leads?
Ugh. Excuse me, I've gotta go. I'm feeling a little… nauseous.
Tell me. What are your hopes and dreams?
1 [Sidebar: I love summer's late-night light, but I don't love encountering people on my evening walks. At least under the cover of winter you can hide in the shadows, out of sight. Because what I hate even more than people is people who look at me. Keep your eyes on your own work, bucko. I don't know where you were raised, but my parents taught me it was impolite to look at people. This strategy went on serve me well countless times in grade school, when I managed to slip under the radar of the popular kids by rigorously avoiding eye contact. If I did not look at them, maybe they wouldn't look at me. Because the last thing I needed was to be made fun of again.]2
2 [Sidebar within a sidebar within a footnote: The no eye-contact thing has repercussions, of course. Like the time I was driving home from work at one of my first jobs after college, and suddenly became aware of a van pacing me to my right. Out of the corner of my eye I spotted the driver swiveling his head, glancing over at me again and again. Staring straight ahead, I pressed the accelerator, but the van stuck with me. Slightly panicked, I pressed harder. We were needling 90 miles per hour when the mystery van finally gave up and dropped back, leaving me watching my rearview mirror all the way home. The next day a coworker cornered me in the break room and demanded to know what he had done to make me ignore him on the road the previous night. Ignore him? How about he try not terrorizing other drivers on the freeway? Jesus.]