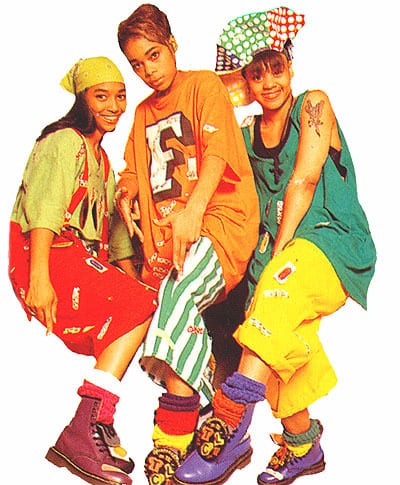 willing to fight
I read this article by Julie Klausner last week, and I haven't been able to get it out of my mind since. That's, like, time, man. A lot of it. A lot of time to spend thinking about one article.
Have you read it yet? No? Go ahead and give it a whirl. When you come back, I'll have a confession and some thoughts waiting for you.
…
…
…
Confession: after I got done reading that article, I looked down and — I shittest thou not — I was wearing a blue pocket dress printed with white bow-tied ribbons, and a really old brown shrug printed with white bunnies. Yeah. Not only was I a walking fashion catastrophe, I had become one of them.
Now, some thoughts:
I think this article is, in part, a knee-jerk reaction to the overabundance of twee currently cycling through popular culture and fashion — and yes, weddings too. Advertisers have grabbed the indie thing by the balls and won't let go. And so we get Subaru commercials in which an impish bride with a severe case of Bangs honeymoons with her new husband in a canvas tent — which is somehow already furnished with a rose-petal-covered bed and a vintage table and chairs (?!) — and they frolic and drink out of enamel cups and moon at each other until it starts raining and everything collapses into a pile of damp cuteness, all while some dude mumbles breathlessly over a strumming guitar.
We live in a world where this commercial can be made, and we're surprised that people are obsessed with flowers and kittens?
[SIDEBAR: WAS SOMEONE AT SUBARU SHUTTING THE OFFICE DOOR AND SNEAKILY DEVOURING WEDDING INSPIRATION BLOGS, OR WHAT.]
Lately I'm really getting sick of this type of crap, so it didn't take much convincing on Klausner's part to have me nodding along in agreement with her over the silly turn these trends have taken. I wasn't initially sold, however, on her point about luring men. Really? We ladyfolk are really just mimicking endlessly recycled versions of Amelie — the film character which arguably opened the door to the mass-market twee aesthetic — in order to make ourselves more sexually desirable? That seemed too simple an explanation. Not to mention it didn't really ring true for my particular lifestyle, so I wasn't sure where I fit in Klausner's equation.
But while the piece appears to be directed at women younger than me — many of my female friends have already settled down with the peen or vag of her choice and none of them would dream of meeting for fro-yo when wine is an option1 — Klausner's larger point about the way men can perceive women is valid, and I think that's what makes it most difficult to hear. And it made me wonder: Oh, shit, is the way I'm dressing affecting the way others treat me? Does it affect the way I behave around others? Youth and innocence will always and forever be fetishized by some men and by society at large. Have I unconsciously chosen to emulate girlishness because it's an easier road to walk than that of the mature woman, who remains feared, shunned, mocked, and scorned by society?
Am I doing all I can to embrace and represent womanhood positively at every age?
And while we're on about womanhood: Where are the challengers? The scrappers? The combat boot stompers? What happened to the riot grrls? How did it get to the point where I — as someone who used to fiercely wear her father's too-big, too-tall military-issued pants out of the house — am even buying a dress with a bow-tied ribbon print, anyway?
You know, there was a special period of time in the 1990s where the members of TLC put on baggy shirts and rap-sung about how they liked to wear their baseball hats pointed to the back and kick their pants down real low. In other words, they liked to dress exactly how the men of that era dressed. Or, in the case of this album cover, male pirate-clowns: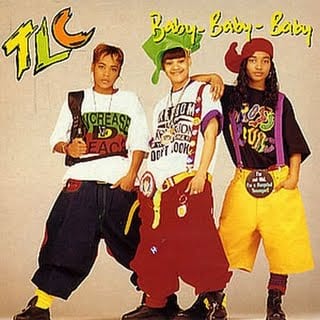 This is not to say that us women ought to set our frilly rompers ablaze and rush out to pluck the store shelves clean of men's Hanes XXL tees. This is not a strident call to return to the more masculine fashions of a decade or two ago. Clothes don't mean everything, of course.
But at the same time, it's no coincidence that people dress more challengingly at times they feel they're being challenged.2
What's challenging us now? In 1995, No Doubt's Gwen Stefani mockingly howled, "I'm just a girl, all pretty and petite / So don't let me have any rights." Fifteen years later, Beyonce is proudly crowing, "Who run the world? Girls!" Yes, yes, that's it! The revolution will not be televised because it's already here! We've arrived. No more work to be done, ladies. Let's all get back to the important business of standing around with our toes pointed inward like awkward waifish tweens, because we didn't need Planned Parenthood anyway, thanks.
What we need now is anger, and fast. And while I don't wish that we could all just go back and live in the '90s,3 I do think we could stand to take a lesson from recent history. Our popular culture today is utterly devoid of a sense of action; a sense of urgency; a sense that something is wrong. Because something is wrong. A lot of things are wrong, in gender and sexuality and economy and politics, and they won't be righted while we're off picking out the perfect headband or planting succulents in vintage teacups.
My personal takeaway from the Klausner article: It doesn't so much matter what we wear to kick ass in so long as we actually bother to, you know, kick ass.
And at the very least, it served as a reminder to start dressing my age.
What did you think?
1 And wine is always an option.
2 The most glaringly obvious example of this being the Cultural Revolution of the 1960s.
3 HORRORS.