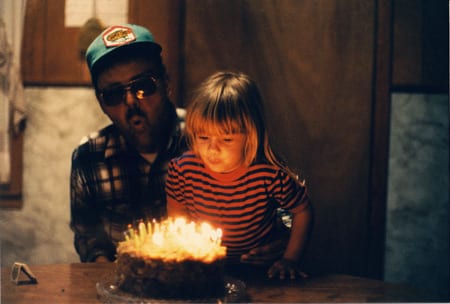 would you like me to talk about being 30 some more? because i could go on.
I've been thinking about birthdays a lot lately, and not just because Sarah posted last month about her excellently awful unsweet 16th. A lot of people I know have birthdays around this time of year; one of them being my coworker, who recently turned 30. And she had a really, really hard time with it. I'm talking bad mood for days. She was sulky, inconsolable, crushed. I've heard of birthday blues, particularly in milestone years, but I've never witnessed anything quite like this.
Even though I turned 30 last November, I couldn't relate to her. In fact, the older I get, the more I revert to acting like a kid around my birthday. Buried deep in some album at my parents' house, there's a picture of me at the head of a table full of little girls who'd gathered for my 8th birthday party. I'm wearing the frilliest dress I could find in my closet, I have a paper cone party hat on my head, I have a giant cake sitting before me, and I am sitting on a dirty clothes hamper. Why? Because I wanted to sit up higher than my friends, who were in real chairs. Higher = awesomer, in my young mind. And it's still sort of the same way. I'm a quiet person who wants an excuse to feel special. When my birthday comes around, I want pomp and circumstance. I want to revel in the attention paid to me. I want a special dress and a cone on my head and a giant cake and I want to be high in the air, dammit.
I remain unapologetic about this.
But back to the birthday blues: outside of the waves of doubt and self-introspection that came to visit around my 30th — and are still coming — I've never really been unhappy about getting older. If anything I just feel increasingly, disconcertingly, out of the loop. The other day, I happened to flip the channel to MTV right in the middle of what appeared to be a commercial for a reality program featuring high schoolers. You know what it actually was? A commercial for the new season of The Real World. Which, okay, I didn't even know it was still being produced, but more importantly: I remember when the people on that show were old. I was in middle school during the show's first few seasons, and at that time its fluctuating cast of 20-somethings seemed to me like some exotic class of human — tiny gods glowing on the distant horizon of adulthood. I couldn't fathom ever being that age. And now, at 30, I am even older than that.
Yeah, okay, that kind of bums me out.
When you're in your early 20s, it feels like the whole world has its eyes on you. You are young! You are in college! You are ready to take over some shit! Now, those eyes are looking past me. Nothing can quite prepare you for the feeling of being invisible. But I think I can cope with that. After all, cultural irrelevancy is just one small hurdle to clear when grappling with the scope of aging. And honestly, who even cares about The Real World anyway?
Now that I've mostly come to grips with the fact that I'm of little consequence to the media and the planet at large, I'm peering further down the road. I keep looking ahead for clues about what's coming next. Changes in my body, to be sure. Changes in my perspective. Will any of those changes be enough to completely knock me sideways? Will they ever cause me to forego the party hats, curb the unbridled enthusiasm, and let the birthday cake go uneaten? Will I really ever feel unspecial just because I'm older?
I don't want to do this wrong. I don't want to believe that it's all downhill from here. I don't want to become Uncle Rico, desperately reliving the golden moments of my past on continuous loop. I've only got one shot at this life and I want to wring all I can out of it.
I want to age gracefully, but I don't quite know what that means yet.
Got any ideas?