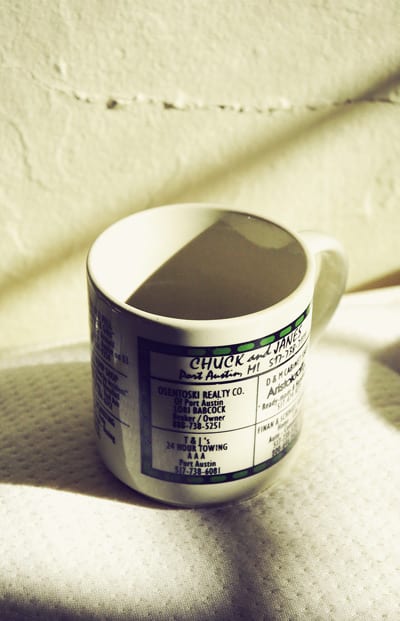 it's a steal
I have a problem.
I like to steal glass and ceramic wares from restaurants. I couldn't even bring myself steal a pack of gum with my cousin when I was a kid, and here I am sneaking crockery in my bag.
My biggest weakness is for bar glasses — especially cocktail-style. I have been known to take other things, like a ridiculously tiny vintage-looking plate for which I can't ever imagine myself having a need. Yet I don't even need to use them. I just like to think about them. And therein, my friends, lies my downfall. I'm a sucker for things that make me think of other times and other lives. Illicit tokens of nostalgia, if you will.
Far and away my most nostalgic piece of dishware is a mug. It formerly lived a life of hard, greasy service at Chuck and Jane's restaurant in Port Austin, Michigan.
This is not a very pretty mug, by any means. It's comprised mostly of local business advertisements, which in itself gets the memories churning. How many times have I driven past billboards for the realty company? My aunt has worked for the short rail insurance agency for years. She's married to a guy whose cousin owns the painting business. And on the mug's backside there's an ad for a motel that sits on a small bluff just above Lake Huron. My Nana used to do some laundry for them after her girls began leaving home. One time, during a summer visit somewhere in the vicinity of 1990, she took me to the motel's pool and I spent an afternoon playing in the water while she read on the concrete patio. Nobody bothered to come out and yell at us.
This mug is not just any illicit token of nostalgia. It's a token of my nostalgia. This is my family, my youth; distilled into one simple, functional object.
Both my mother and my dad's sister waitressed at Chuck and Jane's, back in the late '70's. Even now I remember it as it was when I was a kid: Ripped vinyl chairs, grainy black and white pictures of Turnip Rock and other local landmarks hanging crooked on the walls, that pungent mixture of grease and cigarettes wafting through the air.
The restaurant has changed owners and been renovated since then. And I don't remember what the name is now, but it hasn't been called Chuck and Jane's in maybe 10 or 15 years. So imagine my surprise when I went there a few years ago to eat breakfast with my parents and saw that the same old Chuck and Jane's mugs, gloriously chipped and stained, were still in service. It was all I could do to refrain from shoving all of the dishes at our table into my handbag. I was delivered a serious frown from my dad for my actions, but I must say… this petty crime was entirely worth it.
I sip my coffee from it every morning. And I'm not sorry at all.