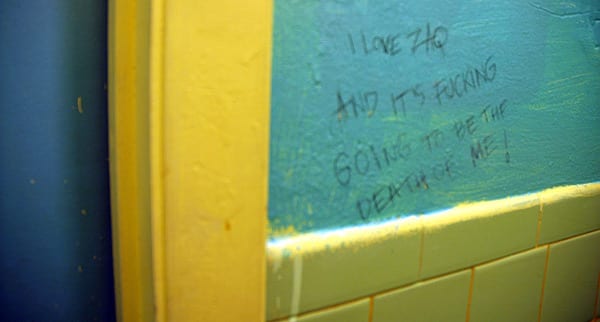 doin' it rong
Hi, guys. Hey. What's up?
You, uh, you might have noticed I haven't been writing much lately. This is due to various reasons:
One, the whole job thing. It's been nutty! And challenging! And other words I can't think of right now, so I'll invent one: hibbityjowg. The last two weeks have seen me dividing myself between old job and new, but that stops today when I send in my final invoice to the old job. Praise Kanye West.1
Two, I have been sicker than the dickens. I know, and here you thought the dickens was the absolute sickest one could get. It's been more than a week now of hacking and sore throat and nose-blowing and ear pain and various eye issues, and then yesterday I got to go sit in a clinic until a very old man with large patches of hair missing from his head could tell me I had pink eye, of all things, pink eye, like I am a 5-year-old who doesn't wash her hands. Which I am most decidedly not. My reactions were, essentially: A) ew, and B) so wait, now I can't have margaritas? Like all weekend? And yes, that's what I'm up against, here: five long days of antibiotics with nary a margarita in sight. Awesome.
Three, I quit my new new job and became a trucker, and I still haven't figured out how to type blog posts while I drive. I'm currently writing this from a truck stop diner in Berea, Kentucky, where I am pleased to report that the waitress actually called me "hon" and then asked me how I liked my biscuit fixed.
So to help fill the gap, I will leave you with an article the beau passed along to me this morning on the kick-sledge World Championship in Norway, which is an entertaining enough read on its own until you get to the part that makes you go WHAT:
Adopting a practice familiar to many adult Scandinavians from their school days, the team that won the exercise race — that walked off proudly with the World Championship trophy — was deemed to be the one that came closest to the average time.
Seriously, WHAT? That would never, ever fly in America, because America is all about the true winners. America, I dare say, is the winnerest. It's a way of life! It's the American Dream! Being the best is coded into our very DNA! You work hard, and you will succeed. If you don't succeed, then you clearly didn't work hard enough! Or you didn't have enough money. One of those two things. Obviously.
Fascinating. What a fundamental difference in belief structures. Frankly — and maybe this is my indoctrination talking — I like the idea of recognizing excellence and achievement. I'm not sure I could ever wrap my brain around rewarding someone for average behavior, because where's the impetus to improve? On the other hand, though… damn, Scandinavians sure do know how to have fun.
What do you guys think? Do you cast your vote in favor of awarding the superlative, or do you think it would be better for mental health all around if we hewed to the median more often? How do you like your biscuit fixed? Are you afraid you're going to contract pink eye via this post? It's very contagious, you know. Maybe you should click away now. But not before leaving a comment! Please leave a comment. Your comments are my margaritas.
____________________________________________________
1 Surely he had a hand in this, right?