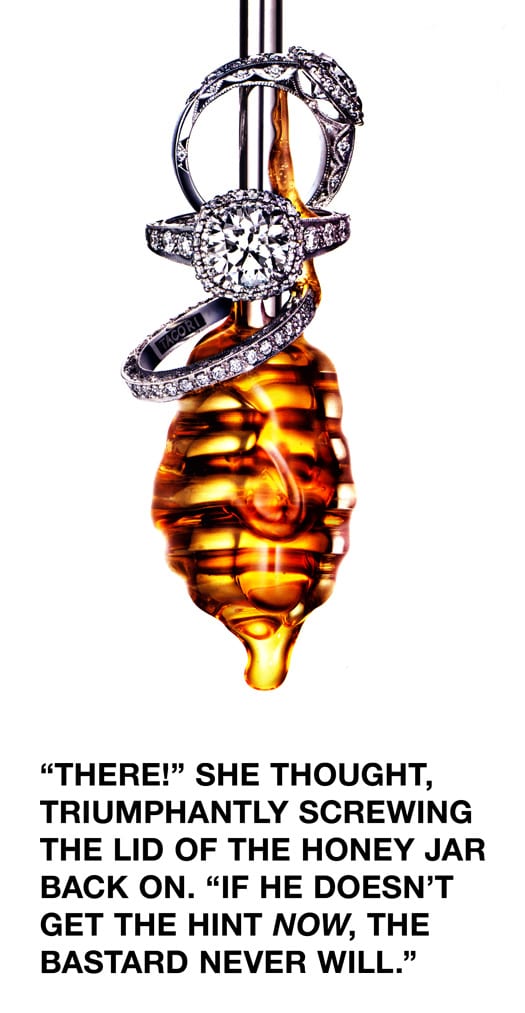 uh-oh, v2.0: the anatomy of a joke
It has become apparent to me that my feeble attempt at hilarity in the last post was too obscure. So here's the first version I did, which I ended up nixing because I thought it was too glaringly obvious of a joke.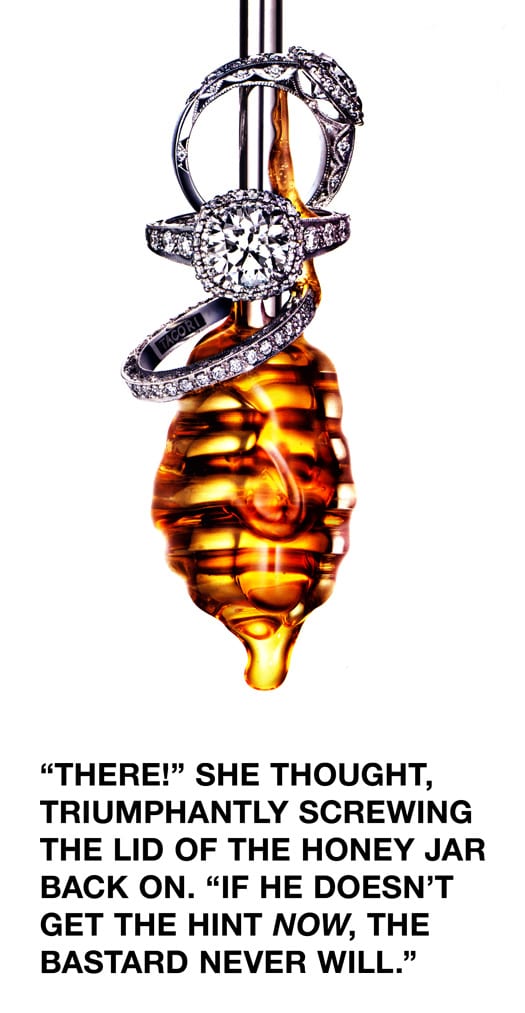 So after making this, I reread it and thought, "No, that's too easy." I don't want to hammer my readers over their heads with the damn punchline. My readers are smart! My readers are sophisticated! Trouble is, I confused sophistication with my own personal string of associations made upon looking at this stupid ad, which were: honey > jar > breakfast > toast. That's why I changed the joke to this: "SHE SMILED. NOW ALL SHE HAD TO DO WAS WAIT UNTIL BREAKFAST. IF SHE WASN'T ENGAGED BY THE TIME HIS TOAST WAS BUTTERED, THERE'D BE FRESH HELL TO PAY."
See, the whole thing was hinging on the fact that I thought it would be clear that the guy in question eats toast with butter and honey for breakfast and that's why the crazy desperate chick put the rings in the honey! Because she wants him to propose already, like crazy desperate conniving females are wont to do! And because I can't fathom any other way to explain why these giant sparkly carat-pissing-contests of rings are shown dripping with honey except that jewelry advertisements are BATSHIT INSANE, but that's pretty much the most obvious statement of all and I can't make a joke out of that. See? SEE???
Jesus. What a horrifying start to the resurrection of my "making fun of advertisements" series. Before you unsubscribe from this blog in a fit of anger, give me one more chance? I'll try harder next time, I swear.