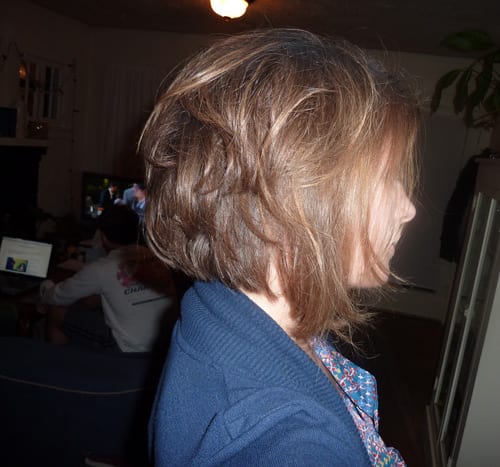 i don't think there are enough apologies for this post, not to mention the fact that i actually published it
So, guys. I try not to be a blogger who's like, HEY WHAT'S UP NOT MUCH JUST THINGS YOU KNOW and then tosses in a few pictures and runs away. But that is exactly what is about to happen here. You have been forewarned.
Because, guys! I went to the hair salon today, and I think looking at angsty self-portraits from back when I had short hair really influenced me, because the first thing I did when I sat down in the stylist's chair was say, I HATE IT CHOP IT ALL OFF. Just like that. It's been a real capital-letters-and-no-punctuation kind of day, if you're wondering.
And so just like that, the hair was gone.
The first thing I did when I got home was announce to the beau, "I want to show all my internet friends!" Because apparently I have no actual in-person friends anymore. Congratulations, I have advanced to the next level of nerdom.
So for my internet friends, here is my hair. Sorry about the shitty flash photos. It is night and I am indoors, WHAT DO YOU WANT FROM ME.
I like to call it my reverse-mullet hair: all party up front, all business in the back. Actually, no. I don't like to call it my reverse-mullet hair, because I came up with that term just now, as I was typing. So a more accurate statement would be to say that from this point on, I will take great enjoyment in calling it my reverse-mullet hair.
And believe it or not, this small handful of photos required that I take about 13,000 less-than-desirable photographs first. For example, this: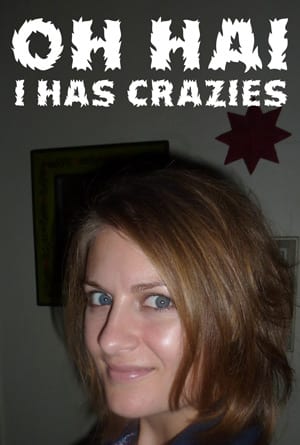 Yeah, I can believe that.
What else is happening? Work is stupid busy right now, which means I haven't had time to write here. The company buyout was supposed to be finalized last week, which means I had dreams of being unemployed and in my pajamas1 this week, but then the whole thing got pushed back for yet another month and so now I'm rushing to get all the work done that wasn't done before because we all thought THERE WOULD BE NO MORE WORK FOREVER. And I'd had a job lead that I thought was solid but now they're not returning my calls or emails and I'm starting to do that thing where I gaze at myself in the mirror and ask why? Why don't they like me? Was it something I said? Was it the length of my hair? What? And maybe just in case it is my hair I should send them one of the pictures above and be like see, no really, I HAVE CHANGED, PLEASE TAKE ME BACK.
Also, tonight I made a casserole. This is significant, because I never cook anything that can't just be heated in a toaster oven or liquified in a blender. I am just trying to be a good wife! Because thanks to ALL OF HISTORY I can't even make a simple caretaking gesture for my family without smacking my head on some low-hanging traditional gender roles. And I can't even do the simple caretaking thing all that well, because I RUINED THE FUCKING RICE, ALL IT WAS WAS RICE AND MILK AND SOME CONDENSED FUCKING SOUP AND I FUCKED IT UP.
And with that, I have met my weekly limit of swearing and capslock abuse.
Now if you'll excuse me, I have to go design something based on the instructions to "make it look like NASCAR." This is exactly what I had in mind when I decided to get into the graphic arts.
_____________________________________________________
1 Sorry, I meant "solidly employed and earning a steady paycheck like a valuable member of society." That one.