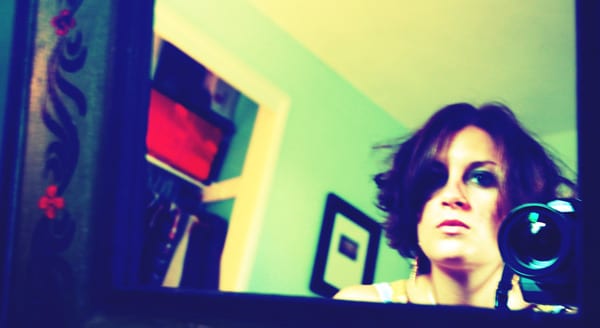 and here's where my special penchant for introspection finally pays off
The other day I was sitting on a couch talking with a friend when all of a sudden, my brain left my body. Not physically, mind you — though that would be a great party trick.1 No, I became hyperconscious of what exactly my body was doing: torso twisted to one side, knee hiked up on my leg, right arm wrapped protectively around my own waist. I was the very picture of discomfiture and guardedness. I looked for all the world like I was at the dentist's office, or a guest on a Fox News show, instead of happily catching up with an old pal.
What was up with that?
Some people ooze natural confidence like a leaky barrel of industrial waste. I am not one of those people. No matter how hard I fight it, a core part of me will probably always believe that I am the weirdest-looking, awkwardest person in any given room. If you handed me a set of crayons and asked me to draw a self-portrait, I would hand you back a finished product that would resemble, at best, a cross between a severely misshapen Mr. Bill and an illustration by Allie Brosh. My skin would be the color and consistency of old paste, my hair would be a dirt-brown stringy halo of flyaways, my face would be an indeterminate mashed-potato-like lump, my eyes would be crooked and set too far apart, my nose would resemble a bulbous Christmas ornament, my midsection would feature several dozen rolls of flab, my thighs would look like grainy stills from the 1969 moon landing, and each of my feet would be 10 inches wide and — mysteriously — webbed.
Sounds horrific and embarrassing, right? Well, there I was, sitting in front of my friend — my pretty, petite, lovely friend — desperately trying not to let my simmering internal stew spew out across the couch and all over her. Because I mean, seriously, have you ever gotten horrific embarrassment on your clothes? That stuff never washes out.
Plainly, my reservoir of self-worth was already low and continuing to drop every moment. I unconsciously felt like I couldn't measure up to the charming specter in front of me, and it was showing — in my body, in the way that I held myself. And that just wasn't right.
You know, I've been talking a lot both on this blog and in person about the process of getting older. It's a well-worn cliché, but something about hitting 30 just makes you reflect. And I've been pushing back hard against the notion that youth is the ultimate achievement. I've been actively seeking the positive in the aging process, because honestly, what else do I have left to hold onto?
One giant, flashing neon plus sign is that I'm a lot sharper than I used to be, and — lingering negative mental pictures of myself aside — I'm generally a hell of a lot more confident than I used to be. You could drone on about how 30 is the new 20, grey is the new black, smart is the new sexy, almond milk is the new soy, quarrelsome is the new belligerent; whatever — but I've made genuinely solid advances towards appreciating myself for who I am, flaws included. And that's not something that could have happened without having the experiences of my 20s tucked in my back pocket. And even that is beginning to sound like a well-worn cliché, but there's nothing trite about learning to like yourself even at your messiest and most doubtful. After the rocky road I've walked in the past decade? That's cause for a motherfucking celebration, is what it is.
And here's how I celebrated, in that clumsy moment of clarity on the couch: I sat up straight, squared my shoulders, unwound my limbs and opened my heart wide.
Confidence — at 30, it's the new low self-esteem.
_______________________________________________
1 Kind of akin to that King Missile song "Detachable Penis." Yeah? Yeah? Hmm. Right.